Protoboards
​

The protoboards can be used for permanent prototyping of your projects. They can be used in the same manner as a breadboards. There is a central prototyping area, suitable for DIP packages and other components. At the bottom of the protoboard are power rails, directly connected to the corresponding power rails of the Scamp. At the top of the protoboard, a connector provides access to the Scamp signals and power pins.

The Scamp connects to the horizontal row of pins at the top of the protoboard. Note that this connector is not soldered, so that you can change the orientation if you so choose.

​Mount your Scamp either horizontally or vertically.
---
Scamp3 Protoboard
​

The Scamp3 protoboard is intended for use with Scamp3 computers. See Ken Merk's video (right) introducing the protoboard.

Note there are pin differences between the Scamp3 and Scamp3e computers, so select the protoboard that is right for your Scamp. (The Scamp3 has a GND pin where the Scamp3e has an RS485 signal.)


---
Scamp3e Protoboard
​

The Scamp3e protoboard can be used with Scamp2e, Scamp3 and Scamp3e computers. Please note that the 3V3 rail is missing its label during to an error in the first production run. This will be corrected in future runs. This rail IS connected to 3V3 on the Scamp - do not wire it to another voltage source.

The Scamp3e protoboard has two footprints for 2 pin terminal blocks, with 5.08 mm pin spacing. These may be used as general purpose connectors, power supply connectors or RS485 connectors.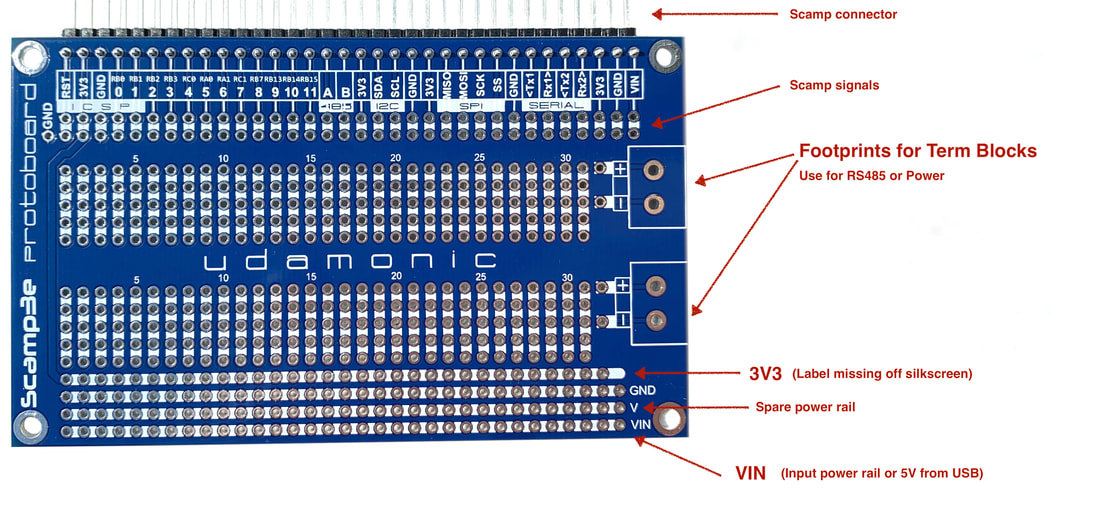 ---
Orientation
​

Replace the right-angle pin header with a vertical header, and you can mount your Scamp at right angles to the protoboard if this better suits your application.

By reversing the connector, the Scamp can be mounted on the underside of the protoboard to save space.

T

o make this change easier, t

he protoboards are supplied with the header

not

soldered in place.